Protect Your Ears This Fourth of July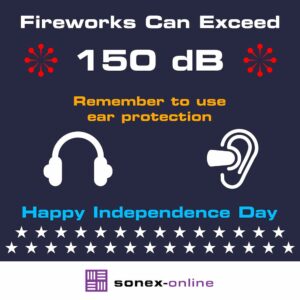 Acoustics and sound management are very important. Fourth of July fireworks are one of many activities during the national holiday. While the lights, sound and carefully-time explosions are breathtaking and a fun way to celebrate our country's independence, fireworks can get very loud. Depending on your viewing location, the booms of fireworks can often be between 140 and 160 decibels — as loud as standing 27 yards away from a jet engine during takeoff.
How to protect your ears
Whether you're attending a fireworks show or setting off fireworks yourself, many forget to use proper ear protection. The best way to reduce hearing loss is to avoid loud noises to begin with. Of course, that's less fun than seeing an exhilarating show of sound and light. Other ways to help avoid hearing loss include:
Wearing earplugs or earmuffs
If you don't have ear protection, enjoy fireworks from farther away
Firework shows are even more fun when viewed with others. If you are watching fireworks with small children, be sure to provide hearing protection that will stay in place throughout the show.
It's generally best to leave pets at home instead of bringing them to the center of the action, especially if they are unfamiliar with the sounds of loud fireworks.
We wish you a happy and safe Fourth of July celebration.